|

Hyner of Maos Rache Soundsystem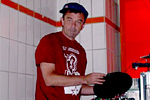 Hyner is the latest DJ alias of Hartl Konopka from Nürnberg, Germany. He was the founder and head of the highly acclaimed Maos Rache Sound System for ten years, before giving up the leadership three years ago to become an ordinary DJ and organizing member.
Maos Rache (Mao's Revenge), as a typical child of the post-modern, plays with codes and combines what ordinarily doesn't fit together. It's a mindfuck to present Mao Tse Tung, this former dictator and cultural reactionary, as godfather of the most free and radical club night in probably all of Southern Germany. Maos Rache plays with the image of Mao appearing as a woman, a boxer, a friend of Japan, a rastafari or as a theorist of revolutionary deejaying.
Hyner plays an uncomparable mix of free jazz, noise, electronic sounds, spoken word, with actual avant dance styles as dubstep, breakcore, leftfield hiphop and others. To date, he has been an accompaning DJ to the likes of The Bug, Raz Mesinai (aka Badawi), DJ/Rupture, filastine, Al-Haca and others. Moreover, Hyner is deejaying at the radio show Dub Universe at Radio Z and he is coorganizer of the electronic festival "Kunst aus Strom" in Nürnberg.