|

Islaja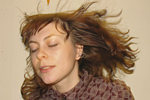 Islaja is Merja Kokkonen, a young visual artist and musician living and working in Helsinki, Finland. She has been compared to an acid-folk version of Björk, Syd Barrett, and to Nico. Her debut album Meritie (Fonal, 2004) ggained praise in international music media such as The Wire, Dusted Magazine and WFMU. The follow up release Palaa Aurinkoon (Fonal 2005) has caused even more excitement and has created quite a stir.
Islaja records her music at home using a rainbow of instruments to accompany her personal vocal delivery sang in Finnish. Her music is notably psychedelic and very intimate. Isjala combines gestures from various genres, but in an off-hand, almost careless way. She twists, bends and often breaks her forms, struggling to lace the psychedelic folk and the avant garde of the present with the remnants of childhood piano lessons.
She has already played numerous large festivals including Eurosonic, by: Larm, Sonar, Itsenäisyysyö at the B2 club in Moscow, Russia and has been invited to play All Tomorrows Parties 2006. She is also a member of Hertta Lussu Ässä, a free folk super trio with Lau Nau and Kuupuu. Islaja will soon release a live cd "Blaze Mountain Recordings" on Ecstatic Peace and is currently finishing her third album for Fonal Records due for release early 2007.
Links