|

Bong-ra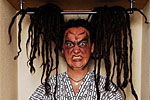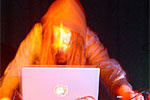 Jason Kohnen a.k.a. Bong-Ra's trademark "jungle rock" style has been moulded over the past 6 to 7 years to become a recognizable and addictive sound. Although his compostions and tracks may vary there's always an adrenaline rush of some sort buzzing around. His tracks differ significantly and crossover ranges of styles which have played a part in his musical development, be it Metal, Gabba, Jazz, Rave or Jungle... and so on. Most important is the energy and mood of each track produced.
When it comes to the performances it's either a DJ set or an Audio/Visual set. Bong-Ra has played shows with the likes of Venetian Snares, dj /Rupture, Panacea, Tech Itch, DJ Scud, Soundmurderer, Remarc, Speedy J, John B, Sunn 0))), Godflesh...
Besides releasing records Jason Kohnen occassionally shows his artistic side on events like Impakt Festival, Sonic Acts and Rotterdam Film Festival and the exposition at the Museum for Modern Arts in Arnhem show.
He also hosts regular Dutch breakcore nights (Breakcore A Go-Go! between 2002-2003, The Junglist more recently) and runs two record labels (Clash Records, Kriss).
Bong-Ra is a prolific artist. He has numerous releases (including 4 full-length albums) on numerous labels like Cock Rock Disco, Ad Noiseam, Very Friendly, Planet-Mu to name a few.
Sounds
Links