|

FM3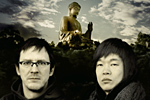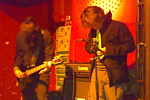 Christiaan Virant is a Beijing-based sound artist and musician. Active in the Chinese punk underground for nearly a decade, he founded the pioneering experimental electronic act FM3 in 1999. Since then, Virant has worked closely with computer musician Zhang Jian. Zhang Jian is China's top session keyboardist and computer musician. He has appeared on nearly every underground rock release over the past decade and was a member of many seminal Chinese rock acts, working with Zhang Chu, Zi Yue and Dou Wei, among others. He is also one of Beijing's most sought after film and television composers, working with a diverse range of artists from filmmaker Cui Zi'en to leading stage producer Lin Zhaohua.
FM3 since then developed into one of Asia's leading platforms for avant-garde music, performing at the Louvre Auditorium in Paris and at media and art festivals worldwide, including Maerz Musik (Berlin), Impakt (Utrecht), Dissonanze (Rome), Marke B (Berlin), Nuit Blanche (Paris), Arborescence (Marseille), Sprawl (London), Out the Window (Tokyo) and Mutek (Montreal). FM3 has been called "the most prominent experimental act in China" by the US magazine Grooves. XLR8R described FM3's sound as "poetic noise" and the UK magazine The Wire calls FM3 live sets "meditative" and "soothing." In 2004, FM3 was commissioned by the Louvre museum in Paris to provide a new soundtrack for the classic 1930s film "La Croisière jaune."
The project concluded with three sold-out performances at the Louvre Auditorium in early June. FM3's sound installations have been featured at the 2004 Shanghai Bienalle as well as the Beijing-Tokyo Art Project, the Dashazi International Art Festival and the Kulturhallen Dampfzentrale in the Swiss capital of Bern. From April-June 2005 Virant was artist-in-residence at the PROGR Zentrum Für Kulturproduktion in Bern. FM3 records for the legendary Staalplaat record label, and has also released music on Bip-Hop records in France, Mutek_Rec in Canada, Mousike records in Italy, Nascente records in the UK, Leerraum records in Switzerland and Sublime Frequencies in the United States.
Sounds
Links