|

Alzheimer Trio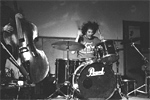 total-impro-quasi-free-no-memory music action!
The continuous improvising, non-compromising music action of Alzheimer Trio started in October 2005, when Grom, Manček and Stanič met on stage as members of audio/visual experimental group Bast Collective and free jazz project Lolita Libre projects.
Ever since, their performances have been disquieting and disturbing the audiences of Slovenian, Italian, German, Austrian and Slovakian clubs and festivals. In first year of it's activity, Alzheimer Trio has executed over 25 improvised gigs and has performed improvised sessions with Anthony Pateras, Robin Fox, Will Guthrie, Ferran Fages, Jean-Philippe Gross, Devil?Man, Ignaz Schick, Mikrokolektyw, Mimesys and Dieb13 among others.
Tomaž Grom studied double bass on Brucknerconservatory in Linz. He is playing a lot of different music styles but lately mostly improvised music. He is practicing extended techniques on double bass, using electronic instruments and the combination of both. He played on different recording sessions and produced one solo author record: La passion de Jeanne d'Arc (solo double bass). Grom has also composed music for over 40 theatre-film-puppet-dance performances.
Matjaž Manček started his musical path as clarinet player in local brass band, soon switched to guitar and noise-rock. Few years ago started to collaborate with jazz-rock band Lolita and impro-jazz project Lolita Libre. Was member of multimedia/experimental music group Bast Collective 2004 – 2006. Since 1996 involved in various music-related activities and actions: music editor, journalist and dj at Radio Student, club dj, promoter, organizer of various festivals and music series, editor of experimental electronic label rx:tx, coordinator of series of impro events at club Gromka.
Marjan Stanič started to play drums in HC group in 1991. Now member of jazz-rock band Lolita, shoto kan karate ensemble Zhoambo Zhoet Workestrao, theater group Chompe, Bast Collective, gipsy fusion Amala and playing also in Macedonia with the band Foltin.
A true Balkanian by heart, beat and stomach!
Sounds
Links